Grass Fed Beef
100% grass fed Irish Moiled Beef cattle that graze on grass in the summer months and silage (pickled grass) in the winter
Shop now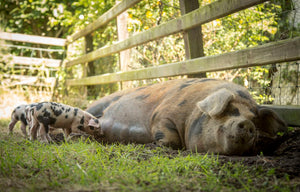 Free Range Soya-Free Pork
Free range pork from a herd of pigs that live outdoors all their lives and eat local Northern Ireland potatoes and green beans, wheat and barley.
Wild venison
Superb venison in season from a local estate. The deer are completely wild and graze on grass and foliage.
Learn more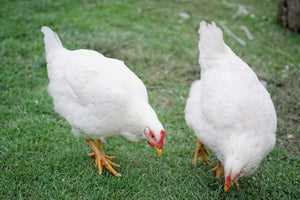 Free range chicken
Free range, outdoor reared chickens, turkeys, geese and ducks in season
Learn more
Grass Fed Lamb
Grass fed lamb reared by our neighbours that eat Ewe's milk and fresh grass from birth onwards.
Learn more
PLASTIC FREE MEAT PACKAGING
Our meat vacuum bags are plastic free
PLASTIC FREE MEAT PACKAGING
All our steaks, chicken, mince and fats are packed in plastic-free vacuum pack pouches. These are made from food safe plant materials and are 100% biodegradable, home compostable and marine friendly.
Learn more
Biodegradable, recyclable parcel boxes
Your order will be packed in a recyclable box lined with thick sheep's wool and biodegradable ice packs to keep your meat cold on it's journey to you.
Learn more
Biodegradable sheeps wool packaging
We pack your order in sheets of thick sheep's wool which keeps your meat completely cold on its journey to you.
HOW TO FIND US
Meat for Health
Pheasants Hill Farm
37 Killyleagh Road
Downpatrick BT30 9BL
Tel 028446217246
Order online 24/7
Customer Phone Line Monday - Friday 10am to 6pm
Courier Delivery to NI, ROI & GB Tuesday to Friday
Local Van Delivery to Greater Belfast Saturday
Click & Collect at Farm Friday & Saturday 2pm to 6p
Sunday, Closed